We love bees in our household! I have had a strong connection to bees my whole life (the name Melissa literally means honey bee) and found a man with just as strong interest in them. We have since passed on that love to our little boy, who has almost no fear of bees and eats honey every night for dessert.
Not only are bees beautiful interesting little creatures that can teach us humans many things they are also necessary for the survival of humans. Bees (and other critters) are responsible for the pollination of almost everything we eat and, in my humble opinions, should be loved and celebrated.
I also have way to many mason jars in my home. While playing around on Ravelry around the holiday's I found this wonderful mason jar cover tutorial on
Nature Nut Notes Blog
. I made on that evening and have been making my own versions of them ever since.
So here is my ode to bees and mason jars, a great stash buster, that is pretty and functional. I picture fresh picked flowers pouring out of the one we now have and hope this projects inspires you and brings us that much closer to spring!
What you will need: An old mason jar, small amount of yellow, white, black, pink (not shown) yarn and a size 4.5 mm crochet hook. Later you will also need a hot glue gun!
With black yarn, chain enough to wrap snugly around your mason jar.
Join with a slip stitch to form a loop, trying not to twist the chain. Chain 2. Make one double crochet in each chain space around. Join at the top of the chain with a slip stitch. Do no fasten off.
Chain 2 with the yellow yarn. Make one double crochet in each double crochet of last round.
At the end of the first yellow row, tie the ends from the yellow and black yarn tightly. Continue making 1 double crochet in each double crochet of the round before, alternating between yellow and black yarn, not cutting the yarn at the end of each row but drawing up the color needed.
Stop when you have reached the top of the jar, where the jar starts to curve inward or as close as you can to the top with the yellow yarn.
With the black yarn, work one row of single crochets. This row of single crochets will make the row tighter. Fasten off and weave in the ends. Your cover is now done!
If you turn the cover inside out, you should be able to see the yarn you drew up with each row. (For some reason I love how neat and organized this is!)
With the 4.5mm hook and the white yarn, chain 10. Make 2 double crochet (dc) in the 2nd chain from the hook.
Half double crochet (hdc) in each ch to the end. Make 3 hdc in the last chain.
Working along the other side of the ch, hdc to the end. (7 hdc)
Make 2 more dc in the same space as the other dc from the beginning of row. Slip Stitch to join.
Ch 2, 2 dc in the next dc, 1 dc. hdc in next 7, 2hd, 1hdc, 2 hdc. hdc in next 7 hdc along the other side. dc in first dc, 2 dc in next. Ss to join. Row 2 complete! Your wing will now start to curve...that's a good thing!
For row 3, ch 3. 2 dc in the next dc, twice. 1 dc. 8 hdc across. 2 hdc in each if the next 3 st. 8 hdc along other side. 1 dc in next dc, 2 dc in each of next 2 dc, ss to join.
Now make another one.....bees actually have 2 sets of wings but my son insisted that I only make 1 set!
This is a good time to make your heart! I make the medium sized heart by June over at PlanetJune. You can find the pattern
here
. I choose a bright pink but you can use what ever pink or red you have in your stash!
Now it is time to put this bee together! I folded my mason jar cover in half with the seam down the middle and facing the back. I then put a small piece of cardboard inside so the glue from the hot glue gun didn't sick to back of the cover.
Lay out the wings where you want them, I put mine in the middle but you could put them higher or lower.
Flip them over and put a small amount of hot glue on the smaller end (the end made up of hdc). I wanted my wings to flap, that's why I only put a small amount of glue. Do the same thing for the other wing, pushing down firmly!
Ta Da!
Cover the back of your heart with hot glue and place it on top of the wings in the center.
You are done!
You could also sew on your wings is you do not have a hot glue gun but I'm a little obsessed with mine right now so I wanted to use it!
Now fill your jar with flowers or pencils or, as ours is currently being used for, paint brushes and enjoy!
Thanks for stopping by my blog! Hope to see you again soon!
Also, check out the link to Robins Blog....I'm featured over there!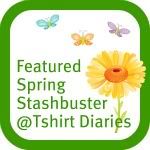 ;