While this weekend is only moderately busy, I don't think I'm going to have much time to blog...sorry!
I have been spending the last few nights working on a tutorial that will be posted some time next month in the Spring Stashbusting event on The T-Shirt Diaries Blog. This is the first tutorial I've ever done, and it has been taking awhile but I'm almost done and I think it will be totally worth it. If you would like to take part, follow the link below to find out more info!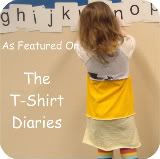 I also finished a gift for one of my co-workers son's birthday party which Kade and I will be going to this Sunday. It is at a local indoor playground that we have never been to but I will report back on Sunday, hopefully with some stellar pictures!
Here is the hat I made for him!
I've added this hat to a linking party....check it out!
And, a plant update!
Here is the latest addistion to the family in the way of plants, a lovely hyathan that Kade picked out on a shopping trip last week. We also go one for Kade's classroom and theirs is already blooming! I will keep you posted as this one comes to life.
And our orchids are making subtle changes, the one on the right is getting ready to pop. I can't wait to see what color they are...what a lovely surprise!
So, between a hair cut, a visit from my parents, a birthday party and a trip to see the in laws, I will be finish my mother in laws socks and doing the final steps on my tutorial!
Thanks for stopping by,
Melissa